HSN Welcomes 15 new Physicians in 2019
November 25, 2019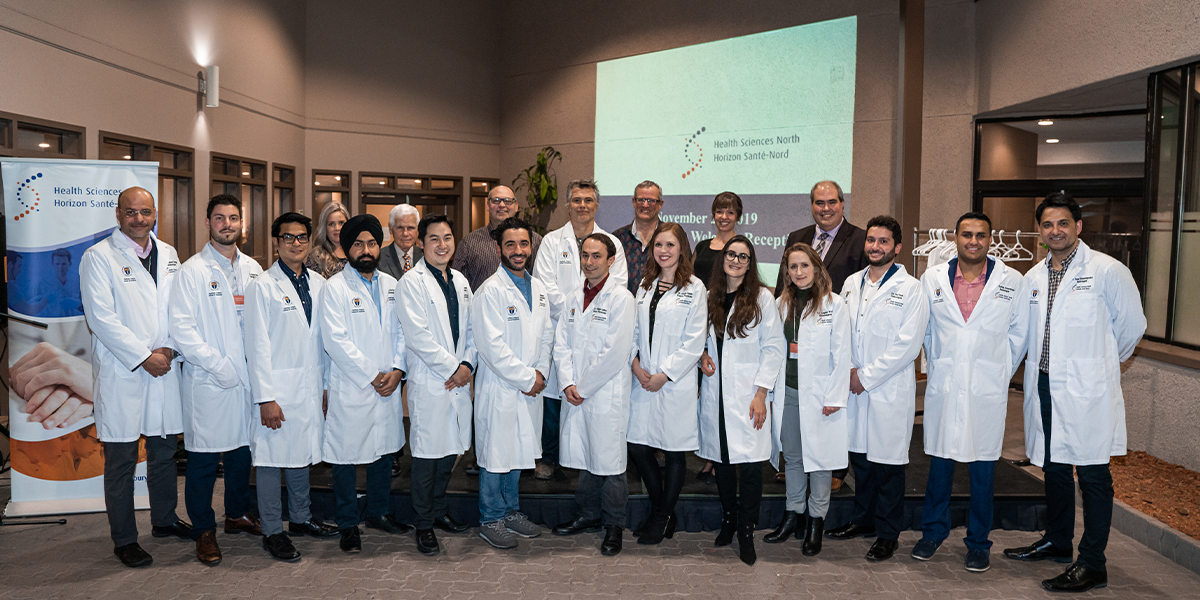 SUDBURY, ON – It was another banner year for physician recruitment in Greater Sudbury as 15 new doctors were welcomed to the city in 2019. This group of recruits includes two new doctors practicing family medicine, one in emergency medicine and 12 specialists in anaesthesia, cardiology, general internal medicine, neurology, neurosurgery, pathology, radiation oncology, and radiology.
The north is well represented as this group includes three graduates from the Northern Ontario School of Medicine (NOSM). Five physicians were raised in the region, with three being from Sudbury and two from Sault Ste Marie and Blind River. The rest come from Toronto (3), Ottawa, Montreal, United States, Egypt, India, Lebanon and the Philippines.
Recruiting a dozen high caliber specialists helps strengthen HSN's role as the tertiary care centre for the region and provides immediate and long term benefits for patients of Northeastern Ontario.
As well this year, HSN officially welcomed its first neurologist specialising in stroke treatment. Dr. Ravinder-Jeet Singh is a multilingual physician, originally from northern India. After completing medical school and residency in his home country, he worked as a stroke neurologist at Max Super Specificity Hospital in India, before relocating to Calgary in 2017. Last year, he completed a Clinical Stroke Fellowship there before coming to Sudbury in July.
"Those who develop severe strokes due to large blocked artery in Northeastern Ontario, often need to travel to Toronto for new clot retrieval therapy, which can unfortunately lead to a delay in treatment. So my goal is to work with HSN's Stroke Program and the Northeastern Ontario Stroke Network, to develop and enhance our services and improve patient education. We are going to help people recognize the signs of stroke and improve the care we provide to our patients," says Dr. Singh.
HSN also welcomed Dr. Angelo Dave Javier, the first adult congenital cardiologist and pediatric echocardiologist to ever practice in Sudbury. Dr. Javier specializes in caring for adults who had heart disease as children. He trained at Toronto General Hospital Congenital Cardiac Centre for Adults, which has one of the first and largest adult congenital heart disease programs in the world, and The Hospital for Sick Children, before coming to HSN earlier this year.
"There are about 400 of these patients in Northeastern Ontario. Although repaired, they are not cured and they have greater medical needs and higher rates of rehospitalization. They were all previously going to Ottawa and Toronto, but now they can do most of their follow-up care here in Sudbury," says Dr. Javier.
A number of recruits this year also have a keen interest in medical research. Dr. Amparo Wolf completed a combined Medical Degree and PhD in Medical Sciences from the University of Toronto, a Neurosurgical Residency at the University of Western Ontario, and a Fellowship in Neurosurgical Oncology at MD Anderson Medical Centre in Houston, Texas, in 2019. Sn assistant professor at the Northern Ontario School of Medicine, she has been practicing in HSN's Department of Neurosurgery since July 2019. Dr. Wolf's husband, Dr. Stuart McGregor, also a neurosurgeon, will be officially joining HSN in January of 2020. They couldn't have picked a better time to arrive as several of HSN's neurosurgeons have retired in the last year.
"Being able to find two jobs in neurosurgery at the same hospital in the same city is extremely lucky, so we are very fortunate. My husband's family is from Owen Sound, so we were looking for somewhere we could settle in Ontario that would still be close to family. I'm also excited to work in a place that puts a high value on research because we know this is how medical breakthroughs are discovered," says Dr. Wolf.
Since 2000, more than 295 new physicians have established practices in Greater Sudbury thanks to collaborations between Health Sciences North, the City of Greater Sudbury, and the Greater Sudbury Chamber of Commerce.
Additional Quotes:
"I'm pleased to welcome such a dynamic group of new physicians as members of the Professional Staff this year. We are excited to work with them to continue to provide quality care for the patients and families of Northern Ontario. Their expertise and knowledge will be crucial part of shaping the future of HSN" – Dr. John Fenton, Chief of Staff, HSN
"This is a very talented group. These new physicians bring fresh enthusiasm, energy and passion that energizes the hospital as we build a better work environment, achieve the outcomes set out in our new Strategic Plan and continue to improve the quality of care for patients in this region."– Dominic Giroux, President and CEO, HSN and HSNRI
"NOSM graduates bring a unique breadth of lived Northern experiences and knowledge to their care. As the only medical school established with an explicit social accountability mandate, we rely on our partnerships in the North and value the work we do with HSN to address health human resources in our communities." – Dr. Sarita Verma, Dean and CEO, Northern Ontario School of Medicine
"Our local physicians are an integral component of the high quality health care available to the residents of our community. Council's Strategic Plan emphasizes the importance of population health and we are pleased to work closely with HSN and the Chamber of Commerce on our shared efforts to support our physicians and strengthen our local health care system. Thank you to all of our new physicians for choosing Greater Sudbury and for the excellent care you provide to our residents." – Mayor Brian Bigger, City of Greater Sudbury
"Physician recruitment continues to be a great success for our city. This year, we are pleased to welcome 15 new physicians to our community via this program. Every new doctor means increased access to health care for our citizens, and a healthier and more prosperous community overall. We have partnered with HSN and the City of Greater Sudbury to promote this program for a number of years, and look forward to continuing our successful partnership." – Bryan Welsh, Chair of the Greater Sudbury Chamber of Commerce.