Health Sciences North Officially Opens PET Scanner Suite
October 9, 2019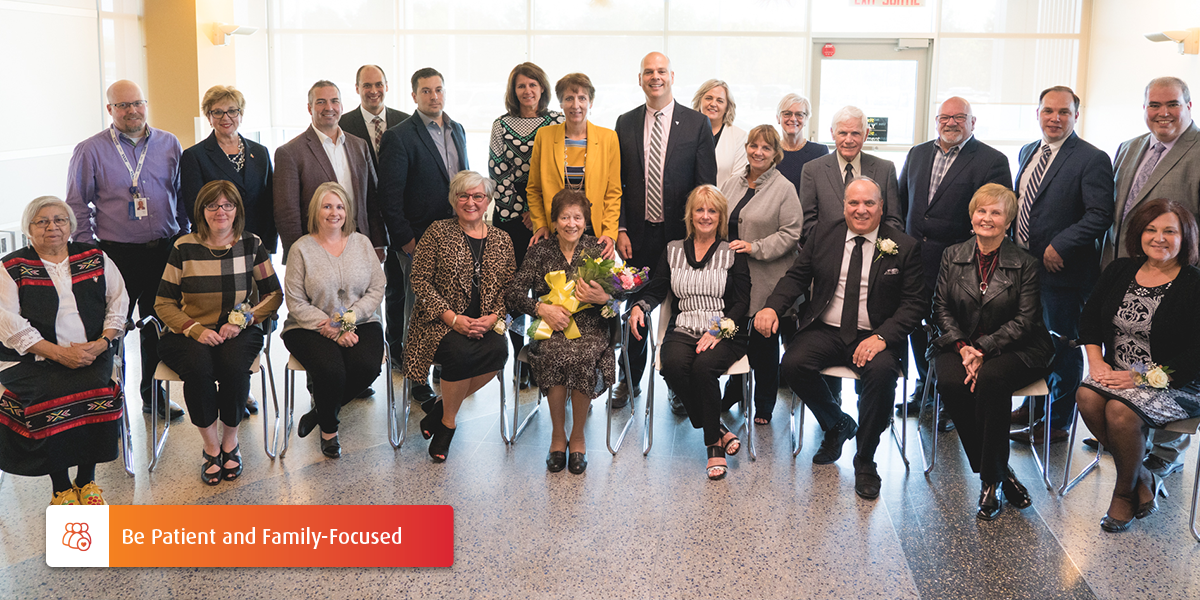 Greater Sudbury – Health Sciences North, along with the Northern Cancer Foundation, members of Sam Bruno's family and the PET Steering Committee proudly celebrated the grand opening of the new "Sam Bruno PET Scanner Suite" at the Ramsey Lake Health Centre.
"We've been working toward this day for 10 years. Sam would be so pleased," said Frank Bruno, Sam's brother. "Sam spent the final years of his life speaking out about the importance of a PET Scanner for Northeastern Ontario. He wanted people in our region to have local access to this technology so that they could receive the best possible care closer to home. We are so thankful for all the support from our community and partners."
A PET scanner is a state of the art nuclear imaging test that uses a radioactive sugar to create images of body functions and metabolism which are then used to diagnose different types of cancer, as well as cardiovascular disease and neurological disorders. Previously, patients would travel to Toronto, or another large urban centre, to access this technology. HSN anticipates performing 1,100 scans in the first year alone, which should result in saving a total of 880,000 kilometres in travel for patients in Northeastern Ontario.
"Imagine looking at a forest full of trees and one tree is lit up with Christmas lights. That is how easy it is to detect cancer with a PET scanner," said Dr. Ryan Carlson, a Radiation Oncologist with the Northeast Cancer Centre at HSN. "This allows us to determine the full extent of a patient's cancer so we can develop the best possible treatment options for them. We can also monitor their progress and adjust that care plan as needed."
The Sam Bruno PET Scanner Fund was started in 2010 in memory of the health care advocate, who passed away a year earlier from colon cancer.
"The people of Greater Sudbury and communities from across Northeastern Ontario were captivated by Sam's story. They should be commended for getting behind Sam's vision and through their donations making his dream become a reality," said Tannys Laughren, Executive Director of the Northern Cancer Foundation, which helped raise $4.3 million through the Sam Bruno PET Scanner Fund and through donations from across the region.
The new Sam Bruno PET Scanner Suite supports HSN's Purpose to provide high-quality health services, support learning and generate research that improves health outcomes for the people of Northeastern Ontario.
Sam Bruno PET Scanner Suite - Grand Opening