Strategic Plan Date Night
February 20, 2019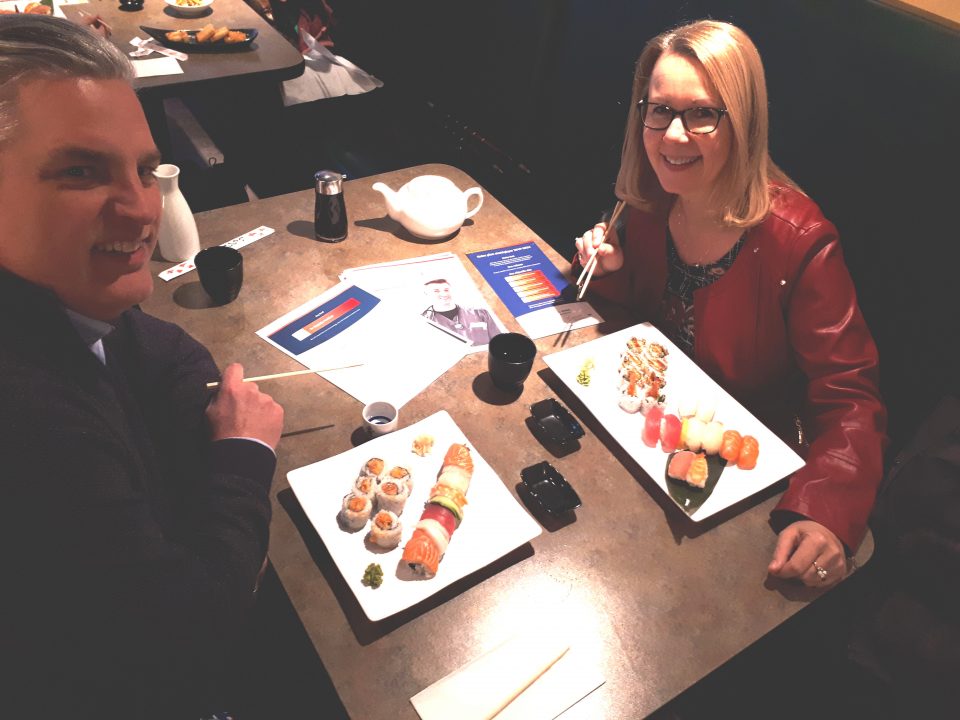 Strategic Plan Date Night
The strategic plan brought many stakeholders, partners and couples together. For Valentine's Day, we wanted to share the story of Anne-Marie and Noel, HSN staff members, who were very engaged and during our strategic planning process.
"Being involved and informed about the Strategic Plan has been very important to us. We saw the speaker series and strategic planning sessions as an opportunity for us to become more aware of HSN's challenges and also to consider new ideas and strategies for overcoming these challenges. To make the experience even more entertaining, we decided to make each lecture a 'date night', which included an overview of the evening's topic while having dinner at our favorite sushi restaurant, followed by attending the lecture and then a spirited discussion about the evening's lecture on the 30-minute drive home.
We managed to attend each and every lecture and found them to be quite compelling and thought-provoking. The fact that we work in very different business realms (Clinical and IT) made for some very interesting and insightful discussions, which, for us, translated into a much better understanding of HSN's current state and how the learnings could be applied to our respective business areas.
It turned out to be a win-win for us as we quite enjoy learning and challenging ourselves with problem solving exercises and we enjoy spending time together. We hope that HSN continues to offer these lectures and similar events so that our colleagues and community members can share ideas, form opinions and take part in meaningful dialogue that promotes change that is of value to our patients and families, to our colleagues and to our community. Oh, and if anyone wants to join us for sushi, we know a really good place. :)"
– Anne-Marie Baker Devost, Coordinator, Counseling and Treatment, HSN's Mental Health and Addictions Program & Noel Devost, Team Lead, HSN's Business Intelligence Integration and Development Department