(VIDEO) HSN and HSNRI Launch 2019-2024 Strategic Plan
February 5, 2019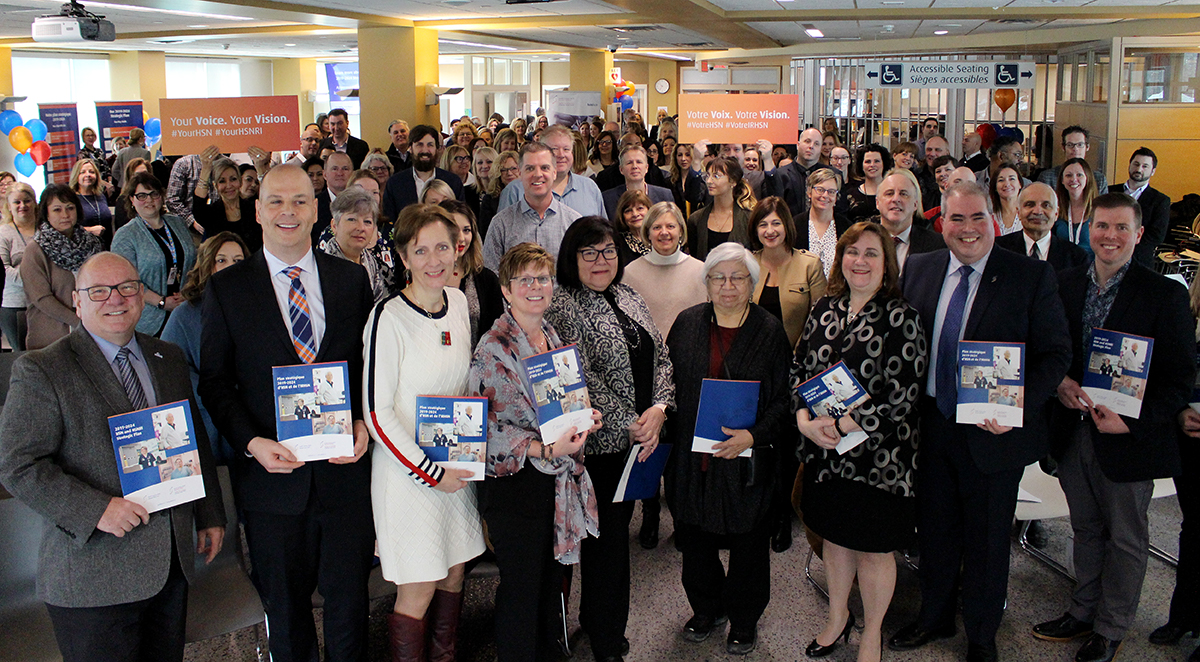 After record-breaking consultation, Health Sciences North (HSN) and the Health Sciences North Research Institute (HSNRI) have launched their 2019-2024 Strategic Plan. This plan will lead to an improved healthcare system for the people of Northeastern Ontario.
The plan's purpose is to drive high quality health services, support learning and generate research that improves health outcomes for the people of Northeastern Ontario.
The 2019-2024 Strategic Plan is guided by five key goals. By 2024, HSN and HSNRI will:
• Be Patient and Family-Focused. The health care system is complex. We will make it seamless for patients and families.
• Be Digitally-Enabled. We will expand the use of technology, data and analytics to improve care.
• Be Socially Accountable. We will seek and value community engagement and stakeholder participation to address the priority health concerns and health equity gaps for northerners.
• Support and Develop our People. We will invest in our staff so that we can be there when you need us most.
• Strengthen our Academic and Research Impact. We will progress as an academic health sciences centre, through regional, provincial, national and international collaborations.
"The Strategic Plan sets us on the right path for success," says Dominic Giroux, President and CEO of HSN and HSNRI. "We have embraced our role as the academic health sciences centre for the region and have carefully chosen 19 specific outcomes we want to achieve by 2024."
The consultation process for the Strategic Plan was broader than ever before. More than 3,100 patients, employees, medical staff, learners, volunteers, foundations, community partners, as well as staff from partner hospitals across the region, all offered their thoughts on what the future of health care should look like in Northeastern Ontario. Engagement sessions were held online and in numerous communities including First Nations, Noëlville, Espanola, North Bay, Blind River, Elliott Lake, Manitoulin Island, West Parry Sound, Timmins and Sault Ste. Marie, to name a few.
There was also a specific interest in hearing from people that were not always consulted in healthcare planning including frail seniors, mental health patients, members of the LGBTQ2S community, injection drug users and HIV patients, and service care providers that work with high-risk youth.
"As a patient and community member, I feel heard. Feedback of participants has been carefully considered. This plan outlines HSN and HSNRI's commitment to patients and families, and puts them first. I am very excited to see the outcomes start to take shape," says Jessica Grenier, Co-Chair of HSN's Patient and Family Advisory Council and member of the 2019-2024 Strategic Planning Steering Committee.
HSN and HSNRI will be driven by their renewed purpose to provide high quality health services, support learning and generate research that improves health outcomes for the people of Northeastern Ontario. In doing so, HSN and HSNRI will be patient and family-focused and digitally-enabled. They will be socially accountable, support and develop their people and strengthen their academic and research impact.